Carnival in Venice
Venice is a tourist's dream. It's different than anything else you've experienced. It is a by foot or boat only city. The buildings of Venice sit on water and 400 year old tree trunks buried in the mud. The heart of Venice, the Rialto Bridge, not only gets people from one side to the other, it also carries drinking water, power cables, and gas pipes to the other side. To get yourself around, I hope you've downloaded the offline map of Venice, because WiFi is delayed as you wind through the alleyways between the buildings. Regardless, look for markers to help you navigate should your precious phone die. If you get the opportunity to go to Venice, GO. I've heard it's stinky, don't go in October, blah blah. The first time I went was in October. Don't listen to the naysayers. It's a spectacular place.
It was the last weekend of the carnival, so nine of us grabbed our bags and headed to Venice for a one night stay. We rented a large Airbnb, explored Venice, and had a blast.
The crew boarded the train in Vicenza at 09:00, rode for 45 mins to St. Lucia train station in Venice and arrived on a beautiful, sunny morning to a sea of humans. The total cost for hub's and my train tickets was 25,60 €. Once we got out of the train station, we waited for our other friend to arrive. Then, we walked about 30 minutes to our Airbnb. Standing outside the building, the leader of the pack determined our check-in location was by the train station. It's ok, no harm done. We decided to go onto the St. Mark's square, had lunch, then grabbed a water taxi to go check-in by the train station. Followed by another lengthy walk to the room. It's called travel for a reason. I'll be the first to admit, my feet and back were in pain.
The Airbnb was very nice with lots of space. All of us giggled at the slanting of the floor and furniture. It is as off-kilter as it looks.
After all of the getting to the room shenanigans, we set out for dinner. Everyone, that means you, should find somewhere highly recommended to eat before arriving. If you wait until you're hungry to find somewhere to eat, you could very well miss out. When will you have the chance to eat at a fantastic, local Venetian restaurant again?
So, are you ready? Ok, I'll tell you. We ate at Enoteca Al Volto. Since there were 9 of us, I made reservations via messenger on their Facebook page for 19:30 (on a Saturday night). I had Beef Heart (Venetian Style) with White Polenta - 15 €. It was scrumptious! Hubs had Duck Breast with some fancy stuff - 16 €. Really great food, local joint, fantastic service, and affordable. Dessert was the oh so delish - Tiramisu.
The Enoteca Al Volto menu.
We were full on good food, had our masks on and ready to see what the carnival was all about. Mind you, I don't thrive on visiting crowded places - at all. Do I go to concerts? No. Do I enjoy crowded football games? No. However, this - the carnival - was fun! If you were just there to people watch, you would have a fantastic time. If you're in a hurry, you would not enjoy the sea of humans trying to flow through the alleyways and over the bridges. People were smoking, bumping, stopping for pictures (me), etc. On the other hand, the security officers did a great job of keeping people in some kind of order and blocking off streets to keep the flow of foot traffic bearable and safe (I guess).
Saturday night there were several musicians on stage in the square and people mingling every two steps. Again, I got lost and photographed many carnival participants and people having fun.
Sunday morning, a friend and I got up early to go take photos before the rest of Venice woke up. I live for moments like this.
We had to check out by 10:00am, so we took our bags with us to the square. My friend and I that went out to take pictures were told at 11:00am they would have the Flight of the Eagle event in St. Mark's Square. We rushed to make it inside because they were only allowing a limited number of people in. At the entrance, the security officers were searching bags. They would not allow glass or metal inside. Low and behold, hubs had a bottle of wine (to bring home) and I had a Hydro Flask. Ok, what now? The security officer was so kind to tell us about a luggage locker. (click link for rates and more) Click for Location. It will benefit you to take down this info, if you're going to Venice. Off we go to the luggage locker. A lot of walking, right? This is why I typically plan ahead to avoid wasting time and walking in circles. However, this was one of those "I'll happily not plan this trip and just enjoy whatever Venice throws at us" weekends. We made it back in time to see the event and found a crack to place ourselves to video it.
Look at these pictures. The costumes were out of this world.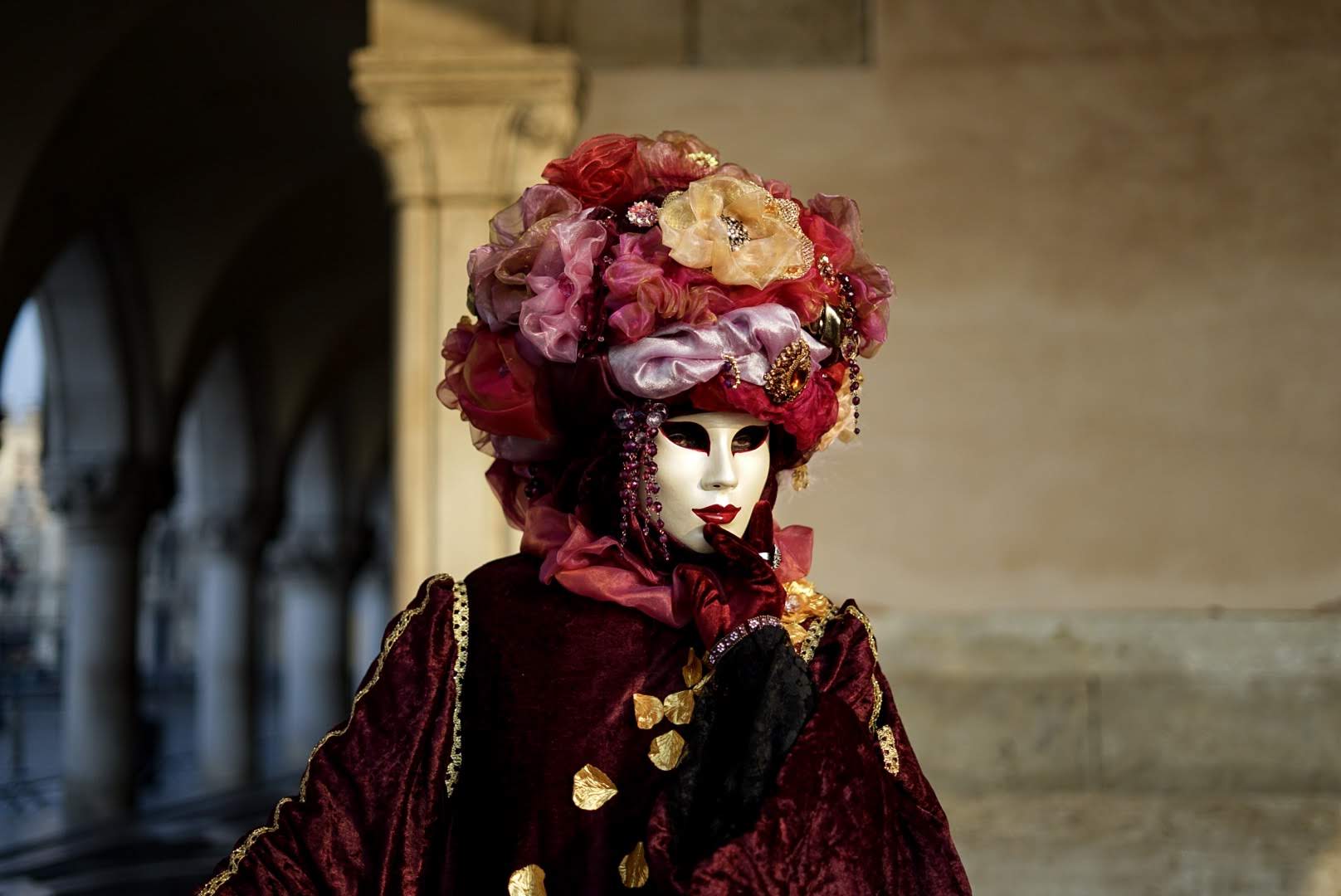 Attending Carnival 2019 was a great experience. One I look forward to again. Next year, I'd like to be in a costume though. If only I could sew, I could make my own.
Anyways, if you have a carnival experience let's hear it.